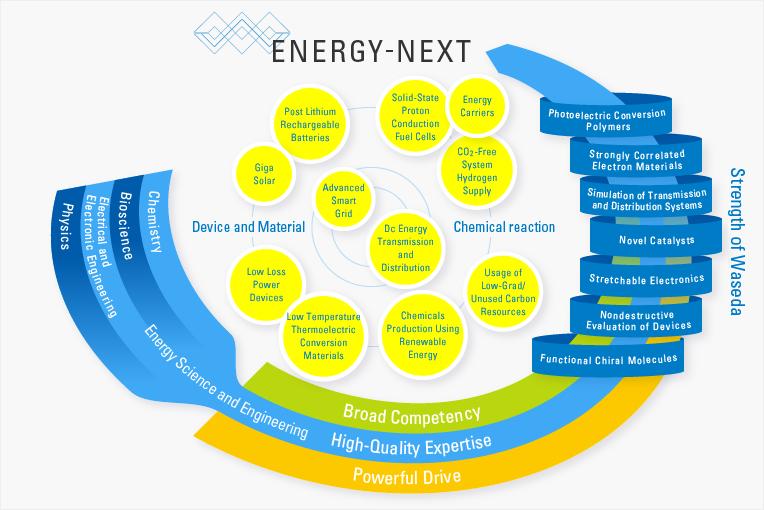 Waseda University's Leading Graduate program in Science and Engineering aims to foster the development of science and engineering Ph.D. students who can tackle complex global issues such as energy problems with the flag of "Energy-Next".

Students in this program receive a graduate education in energy-related science and engineering, a discipline encompassing a cross-section of fields such as physics, chemistry, electrical and electronic engineering and bioscience, which form the basis of science and technology related to next-generation energy allowing students to receive high quality expertise.

The program also includes the Journalism Course (J Course) in the Political Science Department and the Super Technology Officer Course (STO Course) for management design majors, along with industry-academia collaborations. This provides students with abroad competency so that they conduct research with an awareness of its relevance to society of their business.

Students also work at overseas institutions and companies for three months to get a powerful drive required to be a global leader. By making relationships with a variety of human resources that overcomes the specializations and cultural background, students enrich their aptitudes to open the new area.
Students further develop all three skills -high-quality expertise, broad competency and powerful drive- through joining in energy research projects, an area in which Waseda University is particularly strong. It is with three skills that that our graduates enter fields such as the industrial sector to tackle the Energy-Next problem in a not- too far future.